From Porter to the ISSB
At the recent inaugural IFRS Integrated Thinking and Reporting conference in Frankfurt, Chair of the International Sustainability Standards Board (ISSB) Emmanual Faber gave a short but powerful talk framing the significance of the gathering (sign in to see his comments at 32:00 minutes in the morning video). In his talk, I was thrilled that Faber tied integrated thinking and reporting to the work of Michael Porter.  Faber cited three dates that are/will be critical to the practice of corporate strategy and reporting:
1983 – The publication of Competitive Strategy by Michael Porter where he laid out key concepts of corporate strategy, the five forces of competitive advantage and the internal value chain that explain how a company creates value, risks, returns, and how it fits into its markets.
2013 – The creation of the International Integrated Reporting Council (IRRC) and its use of the multi-capital model, which Faber described as new way of looking at the five forces, recognizing that value creation by a company is dependent on extraction of one type of capital to create another capital. The work of the integrated thinking and reporting movement has highlighted the imperative of preservation/growth of the capitals as critical to continued competitive advantage.
2023 – Finally, Faber posited that 2023 is as significant as the past two dates because the Integrated Reporting Framework is now part of the IFRS standard-setting. By embedding integrated thinking and reporting into S1 and S2, Faber asserts, we now have a language for the capital markets about "how value is created through impacts, through dependencies, through resources, that are deemed to be rooted in the capitals." In other words, "the value a company creates for itself is inextricably linked to the value of its ecosystem."
This analysis rang very true to our work at Insights7. Porter's value chain thinking was an important starting point for us in framing how a company or a team creates value for its users or customers. But Porter's value chain is not enough because it was created to illustrate value creation for customers. As Faber correctly pointed out, today's value chain needs to also consider value creation for stakeholders, including the environment. This means that a company and its value creation teams have to think holistically about their internal and external value chains.
How to model a sustainable value chain?  Here's a simple checklist we use to tease out this expanded view of the internal value chain: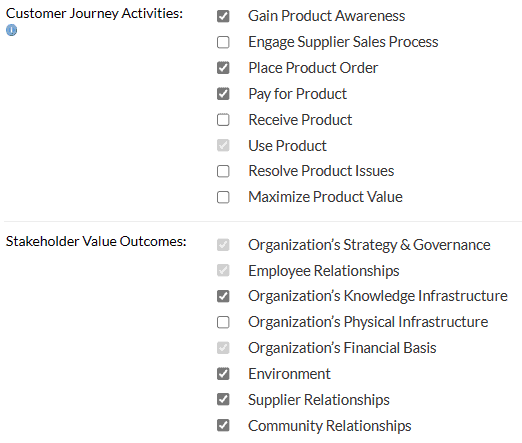 This list is a great starting point for delivery teams from internal value chain links to identify the outcomes customers and stakeholders expect. The list is different depending on whether you work in production, IT, finance, or many other functions.  So it's great to let teams create their own list as well as their value chain graphic. The graphic at the top of this post is the graphic in our platform for the list above. Having a list and graphic like these helps everyone get on the same page about customer and stakeholder expectations, the work that needs to be done to meet those expectations and the metrics that will ensure you're generating sustainable value.
As Faber reminded us, it's about a value chain that considers customers, stakeholders and the environment. Thanks to Faber and the team at the ISSB for continuing to advance the ball.
Want to see more examples of value chain link diagrams (or make your  own)? Let's talk!